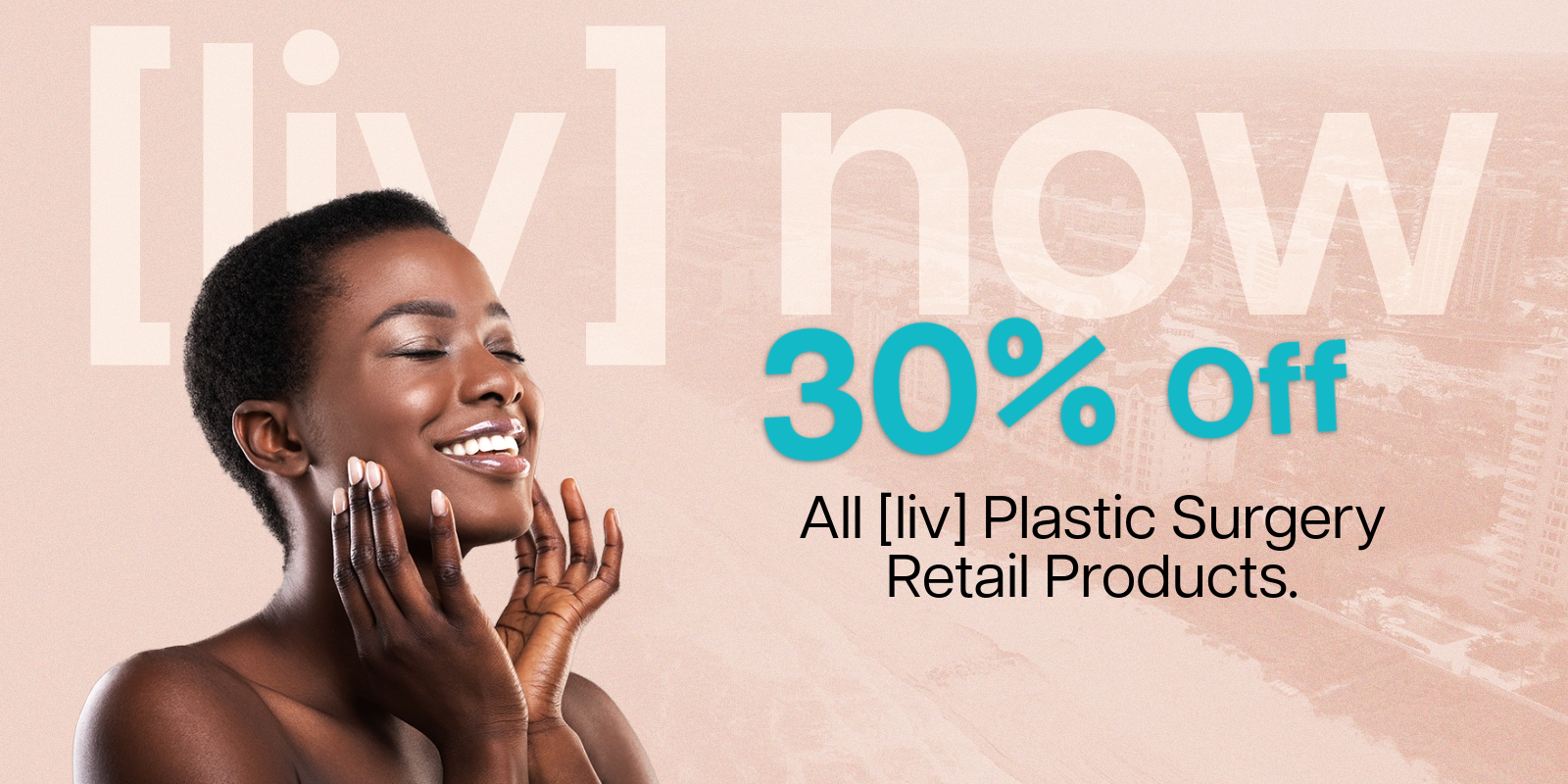 30% Off All Retail Products!
Offer Expires December 1, 2023
Restore overall wellness, rejuvenate healthy skin and promote hair growth.
Promotional Offer Includes: 30% all retail products.
The Benefits of Skincare + Supplements:
At [liv]® Plastic Surgery we provide comprehensive solutions for maintaining healthy skin and hair. Regardless of age, ethnicity, skin condition or skin type we offer a range of retail products designed to correct damage, protect from future damage and maintain healthy skin and hair everyday.
Other Popular [liv]® Procedures
Frequently Asked Questions
Do I need a prescription for Latisse?
Latisse can only be purchased through a physicians office because it contains an ingredient considered to be a drug by the FDA called bimatopros.
Who Cannot use Latisse?
LATISSE specifically treats hypotrichosis, or thin or too-short hair, in the upper eyelash area. The medication is approved after an initial consultation for people who are 18 and older. It is not recommended by the FDA to anyone younger than 16 years old.
How do I ask my doctor for Latisse?
There's no need to "qualify" for using the medication, but your doctor will most likely have a few questions about your eyes, health, and why you're looking for a LATISSE® treatment prescription.
Is one drop of Latisse enough for both eyes?
One drop is just enough for both the eyes. Remember, you need to apply Latisse only over your upper lashes and not the lower lashes or into the eyes. If there is excess solution, blot it with a tissue.
Why is zo skincare so good?
ZO skincare is based upon hydrators rather than moisturisers to minimise skin tolerance, whilst promoting intrinsic skin hydration. This can be achieved through skincare containing active ingredients, whilst stronger medical agents can be added to a regimen for the treatment of problematic skin.
Is Zo skincare medical grade?
ZO takes pride in developing exceptional skincare solutions that harness the best in skin health science based on proprietary technologies, unique delivery systems, bioengineered complexes and advanced, medical-grade formulations.
What celebrities use Zo skin care?
From Jennifer Aniston to Sofia Vergara, Emily Ratajkowski to Christie Brinkley, and Victoria Beckham, these famous faces rely on ZO Skin Health to maintain their radiant complexions amidst demanding schedules and constant exposure to the public eye.
How long does it take for ZO to work?
Improvements to skin can be seen in as little as two weeks.
[liv]® Plastic Surgery

Enhancing Beauty and Changing Lives in South Florida
At [liv]® Plastic Surgery we offer facial surgery procedures for patients in Boca Raton and throughout South Florida.
Our expertly trained physicians and professional medical team are here to help you look younger, appear more rejuvenated and feel more confident.