Facelift
Your face is arguably the most significant part of your identity. It is the first thing people see, and it portrays your emotions and shapes how others perceive you. Though we are taught not to judge a book by its cover, your face offers a window into who you are and how the world sees you around you. If you have visible signs of aging and there is a disconnect between how you feel and what your appearance conveys, it is likely time to consider a facelift.
What is Facelift Surgery?
Facelifts in Florida are a popular way to repair and regain the youth that once existed within your facial features. Rhytidectomy, the technical term, improves signs of visible aging within your neck and face to boost your confidence and reclaim your past youthful appearance. Depending on what part of the face is done, a facelift can reshape the lower part by removing the excess skin, or it can be combined with surgery to enhance the forehead, cheeks, brows, and eyelids. During your consultation with Dr. Ress, you will be shown where you can benefit from a facelift the most and will be given a descriptive customized plan for which procedure suits your specific needs.
Specifically, Dr. Ress evaluates the texture and quality of your skin; how much extra skin you have; if you have jowls and fat in the neck area; if you have lost facial volume. Dr. Ress performs the facelift procedure for Boca Raton patients and the greater South Florida area, including Delray Beach, Boynton Beach, Fort Lauderdale, and throughout Palm Beach, which is why when it comes to facelift Boca Raton is a perfect choice. Dr.Ress uses state-of-the-art technologies and advanced techniques to create the best surgical results for every patient. This enables them to rediscover their youth or confidence once again.
Before and After | Facelift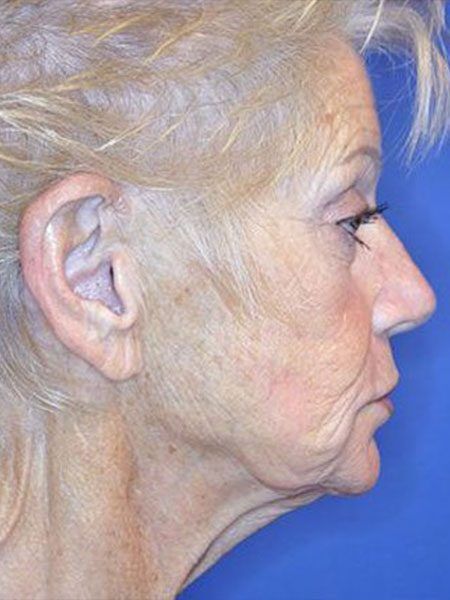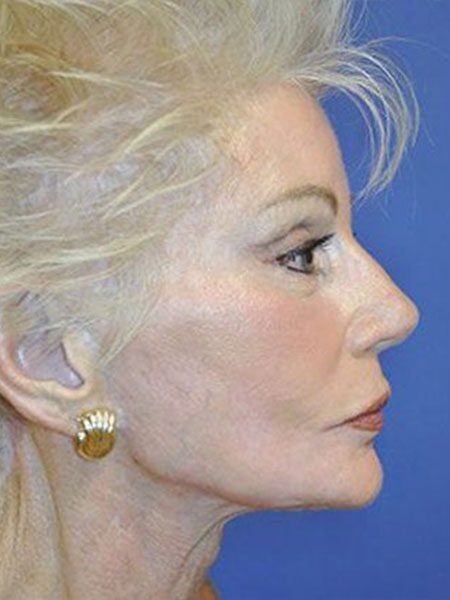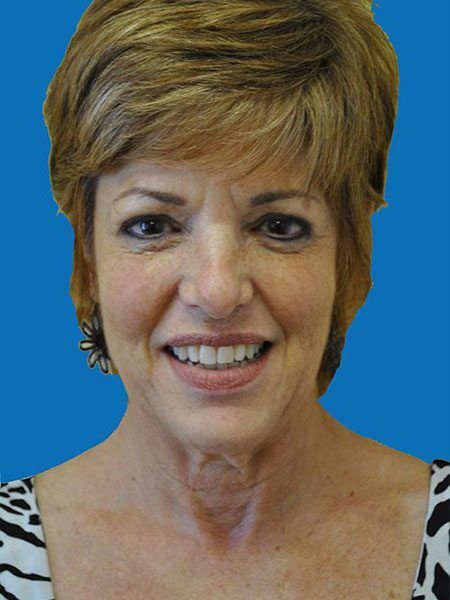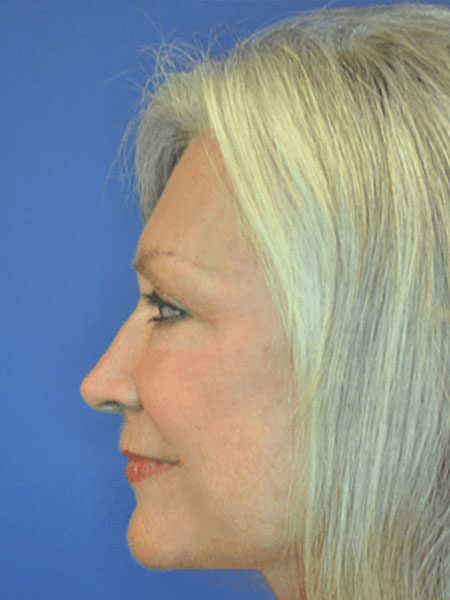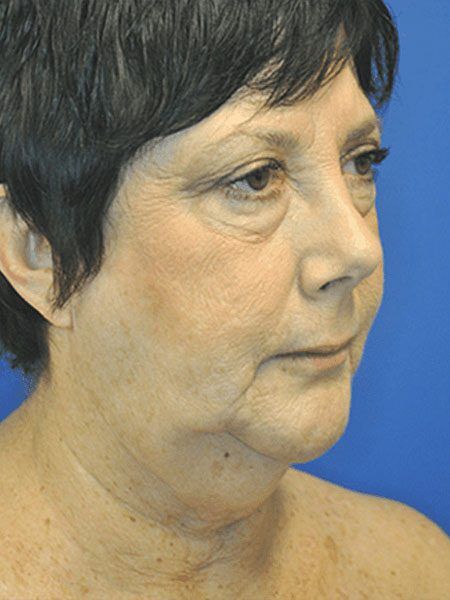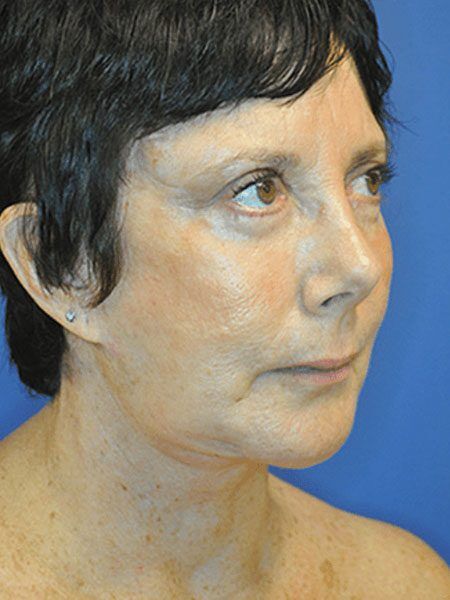 For more Before and After pictures click here.
How is a facelift performed?
Modern facelift surgery is performed safely in an operating room, typically under complete anesthesia. Incisions are designed to be hidden in skin creases not immediately visible and in men at the beard hairline. The incision is carried behind the ear groove and into the hairline. For the results to be long-lasting, Dr. Ress will tighten the deeper tissues of the face, the so-called SMAS, and the neckband muscles (the platysma). The typical incision is small and can be placed under the chin to tighten the skin and the deeper tissue of the neck.
Signs of Aging and the Glogau Classification Scale
Dr. Richard Glogau, a San Francisco dermatologist, created a simple scale to standardize the degree of facial aging so patients and doctors alike can compare apples to apples. His scale goes from 1 to 4, with 4 being the most severe.

Stage 1: 'Early Wrinkles' Patient age: 20s to 30s
Early photo-aging
Mild pigment changes
Minimal wrinkles
No 'age spots'
2: 'Wrinkles in Motion' Patient age: 30s to 40s
Early to moderate photo-aging
The appearance of smile lines
Early brown age spots
Skin pores are more prominent
Early changes in skin texture
3: 'Wrinkles at Rest' Patient age: 50s & older
Advanced photo-aging
Prominent brown pigmentation
Visible brown 'age spots'
Prominent, small blood vessels
Wrinkles, even at rest
Looser skin, jowl formation and neckbands
4: 'Only Wrinkles' Patient age: 60s or 70s
Severe photo-aging
Yellow-gray skin color
Prior skin cancers
Pre-cancerous skin changes (actinic keratosis)
Wrinkles everywhere
Very Loose and excessive skin
Am I a Candidate for Facelift Surgery?
This is a question that Dr. Ress receives regularly. The answer to this question is "yes" if you look in the mirror and pull your skin back toward your ears to tighten it. See Stages 3 and 4 above. Dr. Ress will select the appropriate technique based on your needs and anatomy. If you want to improve your skin and confidence and give yourself an overall boost, then you are a candidate for a facelift surgery – and it will be a smart choice you will thank yourself for making.
What Are the Types of Facelift Procedures?
Several techniques exist for facelift surgery. There are a few types of facelift surgery, one being the mini facelift. They all involve removing extra skin through minimal incisions hidden in natural skin creases. The appropriate technique for you will be determined based on the following:
The condition of your skin – texture, and pigment issues
The degree of skin looseness and elasticity
The amount of volume loss or excess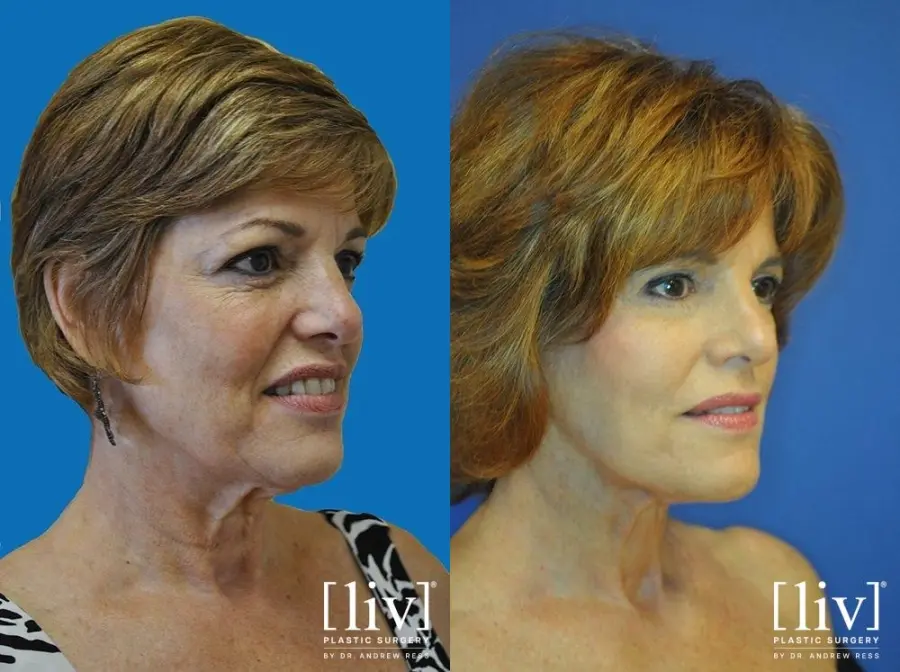 What to Expect with a Facelift?
As with any other procedure, you should have realistic expectations when determining whether or not a facelift is for you. Therefore, we will review the likely outcomes based on over 20 years of experience with you. Facelifts are done with incisions made to be as inconspicuous as humanly possible. You will discuss your options with Dr. Ress to ensure that your shape and contour expectations are met perfectly. Thanks to advances in facelift surgery, healing time and overall discomfort have been successfully reduced, so you can expect to return to your routine but better self quickly.
Regarding a facelift, Dr. Ress is a perfect choice, which our patients can wholeheartedly confirm. They come to us because of our renowned expertise in this delicate art. We offer only the finest treatments and aftercare in Boca Raton and South Florida. Facelift is performed as an outpatient procedure.
Administered anesthesia choice depends on your specific case, which Dr. Ress will go over to ensure you will be safe and secure. Incision techniques and patterns will depend on how much extra skin you have. If applicable, the current condition of your skin, including the elasticity and overall degree of your facial sagging. When it comes to scarring, we strive for a facelift incision to be hidden in the small skin pad that covers the ear canal (tragus) behind the ear or the hairline, where they are unnoticeable.
What is a Mini Facelift?
A mini facelift, also termed "the weekend lift" or the "quick lift," is a surgery that addresses the wrinkles and sagging skin on the lower third of your face, which is why it is also known as the lower facelift involves removing skin and minimal tightening if any of the internal lining called the SMAS.
The mini facelift concentrates on the jowls, chin, cheeks, and marionette lines. This facelift surgery is short, and the recovery period for this procedure is fast. In addition, there is minimal swelling and very few side effects with this procedure. The mini facelift (or the mini lower facelift) is popular among men and women with busy schedules and active lifestyles. The mini facelift does not stop the aging process, of course, but with its incredible results, you can look ten years younger than you would without the treatment.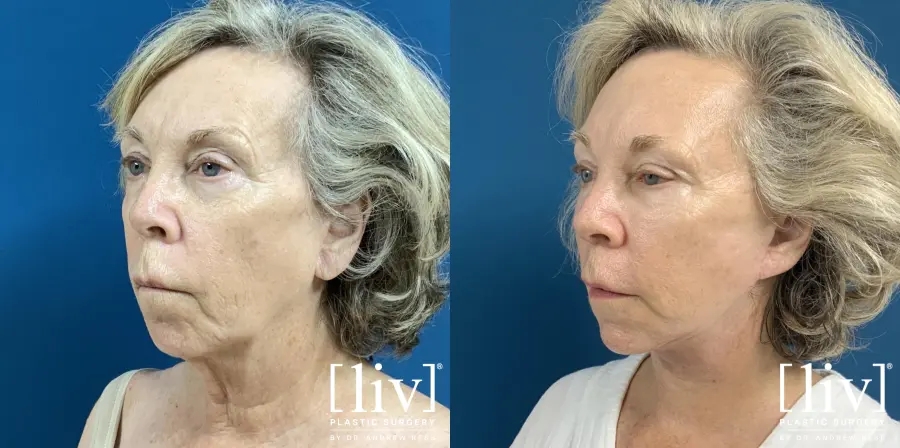 What is a Deep Plane Facelift?
A deep plane facelift rejuvenates the face by addressing sagging skin, jowls, and wrinkles. It involves lifting and repositioning the deeper layers of the face, including the muscles and fat pads. The deep plane facelift technique requires specialized training and expertise and is typically performed by a plastic surgeon like Dr. Ress. It is considered a more extensive procedure than other facelift types and may require a more extended recovery period. Dr. Ress addresses the underlying causes of facial aging by lifting and repositioning these deeper layers.
A deep plane facelift is considered a better option for some patients. It provides a more natural-looking and longer-lasting outcome compared to traditional facelift techniques. In addition, since the deeper layers are addressed, the skin is not pulled as tightly as in traditional facelifts. We want to avoid the overly tight or "pulled" appearance. The deeper plane technique allows for a more subtle and natural-looking result. However, the deep plane facelift technique is more complex and extensive, and not all patients may be good candidates for it.
How Much Does a Facelift Cost?
Facelift surgery is always considered a cosmetic procedure and is not covered by insurance. How much a facelift cost is a frequently asked question, so the cost of your facelift will depend on your aesthetic goals and overall treatment plans, such as whether you need a complete facelift, mini facelift, and additional procedures such as fat transfer or eyelid procedures and laser. During a consultation, Dr. Ress will review the cost of all your options, including nonsurgical facelift options, so when you ask how much a facelift costs wouldn't come off as an unpleasant financial surprise. We believe that your investment in yourself is the best investment ever. Therefore, we offer to finance so you can physically and financially achieve your aesthetic goals.
Pre-surgery consultation.
During your complimentary consultation, your live plastic surgeon will determine which types of nasal contouring methods suit you best. A complete medical history will be taken, as well as a physical exam. It is essential to discover any possible health risks and manage them appropriately. Patients over 40 or those with significant medical issues will require a preoperative medical screening exam and a full nutritional evaluation.
At the preoperative visit:
All your questions will be answered in great detail.
Post-operative instructions will be carefully reviewed with you.
Before photographs taken
Post-operative prescriptions will be electronically sent to your pharmacy so you can have all your medications and supplies in place before your procedure.
At liv Plastic Surgery in Boca Raton, FL, Dr. Ress has performed countless successful facelift surgeries, and our reputation is evidence of this. When it comes to facelifts in Boca Raton is a perfect solution, so if you want to start your path toward having a younger and more revitalized look, contact us today to schedule your consultation.