Microneedling
Microneedling has gained significant popularity, and rightfully so. This procedure revitalizes your skin, helping you to build back lost collagen due to aging. At liv Plastic Surgery, we offer microneedling with RejuvaPen™ as one of our incredible medspa treatments for our patients in Boca Raton and the surrounding cities of South Florida, including Delray Beach, Boynton Beach, Fort Lauderdale, and throughout Palm Beach, Broward and Miami-Dade counties.
What is
Microneedling?
Microneedling is an excellent alternative to laser skin resurfacing or cosmetic surgery if you still need to prepare for one of those procedures. Microneedling makes use of multiple tiny needles, each fully sterilized for safety. These needles create tiny puncture wounds at the treatment area, kickstarting your body's natural regeneration. Microneedling aids in the production of collagen to improve the texture and tone of your skin and to get rid of surface scars and fine wrinkles. Our body responds by boosting collagen and elastin production. These proteins are vital to keeping your skin clear, healthy, and overall younger-looking. Microneedling helps stimulate your skin to heal. This long-lasting solution works with your body to naturally rejuvenate your skin.
How is the Microneedling Procedure is Performed?
Microneedling involves using tiny needles that move at high speed to make tiny holes in your skin. By penetrating your skin, microneedling stimulates your skin's ability to heal itself. During that healing process, your body will produce collagen and elastin.
We use the RejuvaPen™ system to perform microneedling. This "pen" uses a special cartridge with nine small needles that rejuvenate the skin. These are extremely small but will yield big results. At liv Plastic Surgery, we will use a topical numbing cream that will be applied to your skin about 20 minutes before the treatment. The actual procedure is not painful because the needles move at high speed, and the penetration happens quickly. There may be mild discomfort, and it can often feel like sandpaper on your skin.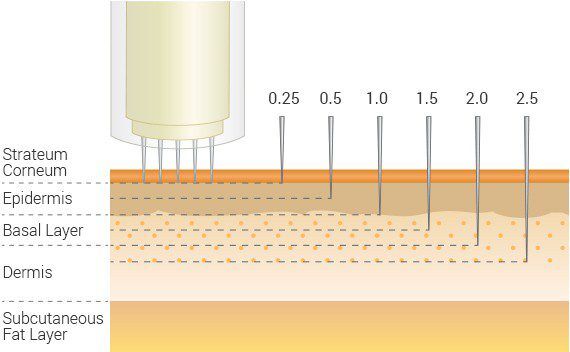 We often follow up our microneedling treatments with PRP therapy for additional facial rejuvenation. This is ideal for treating acne scars, surgical scars, stretch marks, wrinkles, fine lines, hyperpigmentation, sun damage, large pores, and uneven skin texture. It can be performed on the face or body and is suitable for all skin types and colors. It will be determined during your evaluation whether PRP therapy will benefit you.
What are the Benefits of Microneedling?
Microneedling comes with a range of benefits, including:
Is more affordable than laser therapy
It can benefit a wide range of skin tones and types
Pain-free procedure
Quick and easy – no downtime
Reduces acne
Reduces fine lines and wrinkles
Evens out skin tone / reduces hyperpigmentation
Treats large pores
Improves skin elasticity
Reduces scars, including acne scarring
Reduces stretch marks
Firms, lifts, and rejuvenate tired and dull-looking skin
Improves the appearance of scars and sunspots
Am I a Candidate for Microneedling?
Microneedling can benefit a wide range of patients with all types of skin. Additionally, patients of all ages report improvements after completing their microneedling treatment plan. Still, it is important to remember that it is best for treating milder cosmetic concerns.
If you are suffering from the following skin issues, then you may be a candidate for microneedling:
If you have fine lines and wrinkles
If you have acne scarring
If your skin is dull, uneven or blotchy
If you have large pores
If you have sun damage or sun spots
How Much Does Microneedling Cost?
Microneedling is a cosmetic skin rejuvenation procedure and is not covered by insurance. The cost of your microneedling treatment will depend on your aesthetic goals and your overall treatment plan. During a consultation, Dr. Ress will review the cost of all your options, so there is never a financial surprise. We believe that an investment in yourself is the best investment you will ever make; therefore, we offer to finance so you can achieve your aesthetic goals both physically and financially.
How Microneedling Tightens the Skin
Micro-needling using PRP is an effective and safe skin resurfacing technique that creates micro-channels within the skin to encourage the growth of collagen and elastin. The drug can also smoothen textured issues like sunspots and stretch marks and reduce wrinkles and scarring. Micro-Needling using PRP is safe for all skin types, even darker ones.
Microneedling using PRP (Platelet Rich Plasma). PRP is extracted from platelet-rich serum. When exposed to the skin, platelets are rich in growth factors that promote cell turnover. Microneedling with PRP can reduce wrinkles and fine lines. In addition, microneedling can reduce the appearance of acne scars, stretch marks, and hyperpigmentation. Micro-needling is possible on the face, neck, shoulder, back, abdomen, hands, legs, belly, belly, and thighs.
Schedule Your Consultation Today
At liv Plastic Surgery in Boca Raton, FL, Dr. Ress serves patients in Delray Beach, Boynton Beach, Fort Lauderdale and all throughout Palm Beach, Broward and Miami-Dade counties. We believe strongly in our skin rejuvenation technologies and always look to provide the best for our patients. Our top-notch reputation is evidence of this. Contact us to schedule your consultation and start the path to having a younger, more revitalized look today.