Breast Reduction
If you are experiencing back problems, shoulder pain, poor posture, or issues with activity limitations due to the size and weight of your breasts, a breast reduction could be the answer.
Dr. Ress performs breast reduction surgery in Boca Raton and for the greater South Florida area, including Delray Beach, Boynton Beach, Fort Lauderdale, and throughout Palm Beach, Broward and Miami-Dade counties. Dr. Ress' work includes a variety of procedures, from reducing the size of large breasts to achieving breast evenness, balance, and lift. Dr. Ress and the team at liv Plastic Surgery are here to provide you with natural-looking breasts that will help you to feel and look your best.
What is Breast Reduction?
Breast reduction surgery is helpful for people who have heavy breasts. However, some people are not pleased with the appearance of large breasts, which can cause neck pain, back pain, and many other physical problems.
The procedure removes a targeted amount of tissue from one or both breasts to achieve your ideal size. We work closely with our patients to find the optimal solution based on their needs and expectations.
What Are the Benefits of Breast Reduction Surgery?
Many people wonder why someone would want a breast reduction. A patient might want to undergo a breast reduction for many reasons, including:
They are unhappy about their larger breasts
Large breasts can cause neck or back pain
They feel self-conscious because of their breasts
They have breasts that are disproportional to one another
Reduced back strain
Reduced shoulder pain
More ability to exercise and stay active
Clothes fit better
Breast Lift / Reduction Case 1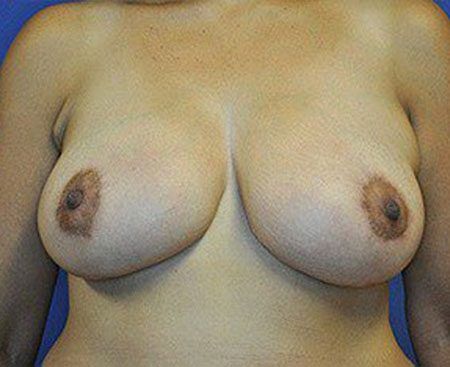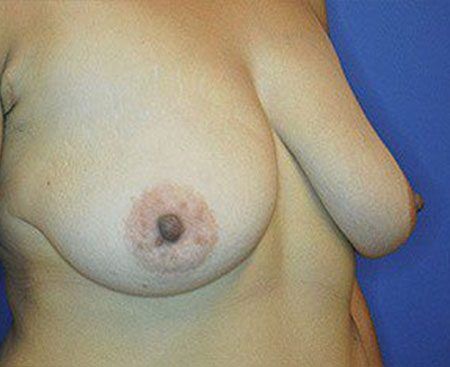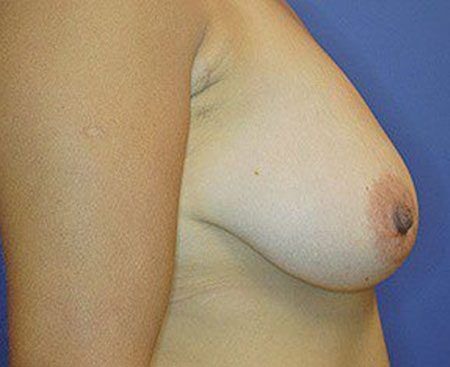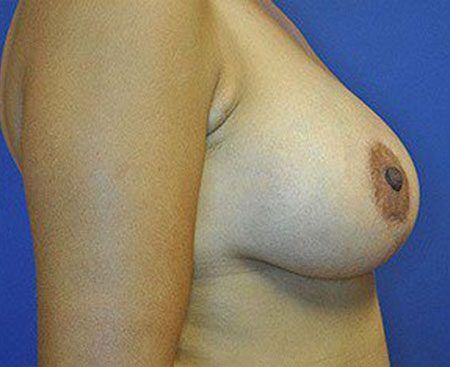 For more Before and After pictures click here.
What to Expect During a Breast Reduction?
The traditional method for reducing breast size involves making an incision around the nipple and then downward on the underside of the breast (called a lollipop incision). Extra skin, fat, and tissue will be removed, the nipple will be repositioned, and the remaining skin will be sutured back together. This leaves a large scar under the breast.
The horizontal scar technique does not have a vertical incision like the lollipop incision. The incision occurs on the bottom of the breast, where the breast attaches to the chest.
Other methods include round block mammoplasty, where the incision is made only around the areola, leaving a scar disguised by the color differences between the breast and the areola. Liposuction can also reduce breast size but does not reconstruct the breast.
Breast reduction surgery may be performed in an outpatient facility, but sometimes an overnight stay in the hospital is warranted. Surgeries occur under general anesthesia and may take two to five hours. It takes about a week to recover enough to return to work or school. However, full recovery takes weeks. In addition, patients may initially experience pain if their breasts swell during menstruation.
Breast reduction surgery cannot be performed on women who are lactating or who have recently stopped lactating. Post-operative complications occur more frequently when large volumes of breast material are removed.
Who is a Candidate for Breast Reduction Surgery?
If any of the following conditions apply to you, you may be a candidate for breast reduction:
The weight of the breasts is causing physical pain
The breasts vary in size or shape
Aging has caused the breasts to sag or lose shape
You feel your breasts are too large
This simple procedure can help you gain confidence and freedom. Our friendly team can assist you whether you need a reduction due to existing pain or if you just feel more confident with reduced breasts.
How Much Does Breast Reduction Cost?
Breast reduction surgery may be covered by insurance. However, the cost of your breast reduction depends on your situation. It is important to understand that your case is unique, and your treatment plan will be designed specifically for you. Therefore, the cost will be determined after your needs are assessed. During the consultation, Dr. Ress will review with you all your options, so there is never a financial surprise. While insurance claims to cover this procedure, it has been our experience that they, not you, choose how small your breasts will become. Since Dr. Ress refuses to make women too small-chested, we only offer breast reduction as a cosmetic service. We also offer several financing options, as we want to make this experience as easy and comfortable as possible.
What Is the Recovery Like?
Every patient recovers at their rate, depending on their unique procedure and overall health. Generally, patients can return home the same day as their breast reduction and can begin recovering immediately. After your surgery, we apply bandages, dressings, and compresses as appropriate to facilitate efficient healing. Total recovery time varies, but most patients take about two weeks off from work and need to avoid physical activity. In addition, we provide patients with the appropriate medication to control any discomfort and swelling, promoting a rapid and comfortable healing process. Most patients can return to mild activity several weeks after their procedure, progressing from there.
When Can I See the Results?
The reduction in weight and pull on your body will be noticeable virtually immediately. However, it can take several months to see your final results. Initial swelling goes down quickly, but it can still take time to completely subside so you can see your final results. As your body heals, it will adjust to the lessened pull of your breasts, and you should notice relief from symptoms such as back pain, rashes, and any other concerns your breasts caused you.
Schedule Your Consulation Today
At liv Plastic Surgery in Boca Raton, FL, Dr. Ress serves patients in Delray Beach, Boynton Beach, Fort Lauderdale, and all throughout Palm Beach, Broward, and Miami-Dade counties. He has performed countless successful breast reduction, breast augmentation, and breast lift surgeries, and his reputation is evidence of this. Contact us today to schedule your consultation and start the path to having the body you've always wanted.