Mommy Makeover
As a mom, it is really hard to stop and think about yourself and your needs. Focusing on your children, your family, your home and work over a 24-hour/7-day week is a non-stop roller coaster ride. However, you deserve to put a little time into investing in yourself.
Dr. Ress performs mommy makeover surgery in Boca Raton and for the greater South Florida area, including Delray Beach, Boynton Beach, Fort Lauderdale and all throughout Palm Beach, Broward and Miami-Dade counties. Dr. Ress feels that every mother should be able to feel and look her best. Dr. Ress and the team at liv Plastic Surgery are here to provide you with the great attention, care and results that you deserve. When it comes to procedures such as mommy makeover Boca Raton is the perfect place to start inquiring. Mommy makeover surgery can include a number of procedures that can help you achieve that pre-childbirth look. Mommy makeover is a kind of an investment that is highly personal, but at the same time, perfect for women who recognize that they need a little bit more help achieving their pre-baby looks, aside from succumbing to a healthy diet and exercise.
Tummy Tuck / Mommy Makeover – Case 1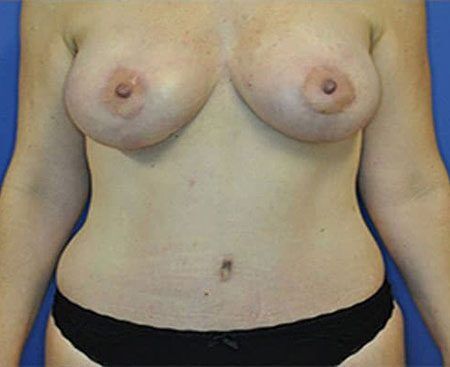 For more Before and After pictures click here.
What is Mommy Makeover?
A mommy makeover is a combination of procedures to correct the breasts and abdomen from signs of pregnancy and breast feeding. As pregnancy affects each woman differently, a mommy makeover is an all-encompassing term with the exact combination of surgeries determined by the individual woman's particular needs. For the breasts, an augmentation, lift or augmentation lift may be required in combination with a no-drain tummy tuck. Occasionally, other procedures can be performed simultaneously, such as fat transfer (FTP), eyelid surgery, and even a Brazilian butt lift (BBL). Mommy makeover surgery is a unique way to describe rejuvenation of breasts and abdomen, some of the most common physical changes that occur following pregnancy.
What Are the Benefits of Mommy Makeover?
Immediately fitting into clothes better
Looking great in a bathing suit
Improved self-esteem and sexiness
Regaining of the naturally youthful appearance
Tightening of the abdominal muscles
Faster recovery
What Are the Types of Mommy Makeovers?
When it comes to mommy makeover surgery Boca Raton offers a selection of mommy makeover surgery options, allowing every mom to easily choose what combination suits best their needs and their aesthetic goals. Every woman, and therefore, every mom is different, with different post-pregnancy marks they want to erase.
Breast Augmentation & Tummy Tuck – The breast volume is replaced with implants and the abdomen corrected with liposuction and no-drain abdominoplasty.
Breast Augmentation Lift & Tummy Tuck – The breast volume that was lost is replaced with an implant while the excess skin is corrected by a breast lift. A tummy tuck is then performed as described above.
Breast Augmentation & Tummy Tuck & Gyno Surgery (i.e., hysterectomy) – Sometimes the decision to have a mommy makeover is made after learning you require surgery for gynecologic reasons such as undergoing hysterectomy. Dr. Ress will work and coordinate with your gynecologic surgeon to perform your procedures at the same time under complete anesthesia. This combination of surgeries is performed at one of our Boca Raton, South Florida hospitals and requires at least an overnight stay.
What Are the Results of a Mommy Makeover?
When searching the term "mommy makeover surgery near me," some of the first questions you want answered are what are the results you can expect. You should expect to see a dramatic improvement in your appearance, possibly even beyond your pre-pregnancy look. Patients report significant improvement in self-esteem, energy and sexuality. Due to the major amount of improvement obtainable, the downtime after surgery can be expected to be at least one to two weeks. liv Plastic Surgery has great experience with these mommy makeover procedures.
Pre-Surgery Consultation
During your complimentary consultation, your liv plastic surgeon will determine which types of body contouring methods suit you best. A complete medical history will be taken as well as a physical exam. Patients over age 40 will require a preoperative medical screening exam and a mammogram. All your questions will be answered in great detail.
How Do I Know if Mommy Makeover is Right for Me?
You are a great candidate for mommy makeover if you do not plan to have more children, you are in good to excellent health and you are within 15-20 pounds of your goal weight.
How Much Does a Mommy Makeover Cost?
Mommy makeover surgery is generally considered a cosmetic procedure and therefore is not covered by insurance. The cost of your mommy makeover will depend on your aesthetic goals, the areas you would like to have treated and your overall treatment plan. During a consultation, Dr. Ress will review the cost of all your options, so there is never a financial surprise. We believe that an investment in yourself is the best investment you will ever make, therefore, we offer financing so you can achieve your aesthetic goals both physically and financially. Choosing mommy makeover surgery Boca Raton is by far the best decision when analyzing cost and final obtained.
At liv Plastic Surgery in Boca Raton, FL, Dr. Ress serves patients in Delray Beach, Boynton Beach, Fort Lauderdale and all throughout Palm Beach, Broward and Miami-Dade counties. We will work to create, nourish, and sustain the body you desire. We accomplish that with the most technologically advanced methods available. Dr. Ress and the team at liv Plastic Surgery have performed countless successful mommy makeover surgeries, and our reputation is evidence of this. Contact us today to schedule your consultation and start the path to having the body you've always wanted.
What Are the Risks Associated with the Surgery?
As we already mentioned, the risks involved with this type of surgery are largely similar to those following some other procedures. However, bleeding, infection, poor healing of incisions, fluid or blood collection, change of nipple sensation, inability to breastfeed, implant leak etc., are some of the sequel that are associated with mommy makeover procedure.
Will I Have Scarring After?
Any time an incision is made a scar will result. The goal is to make the scar the thinnest and least noticeable as possible; put the incision in a place hidden by clothing or in natural skin creases that camouflage the scar. Additionally Dr. Ress has all sorts of tricks up his sleeve to reduce scar redness (IPL) thickness (Fractionated CO2 laser with steroid). Sometimes a scar needs to be simply re-excised and replaced with softer skin.
How Can I Reach the Doctor if I Have a Question or Think There is a Problem?
Dr. Ress and his nurse provide his post operative patients with his cell phone number and expect his patients to text or call if they suspect a problem. That is part of his commitment to excellence.