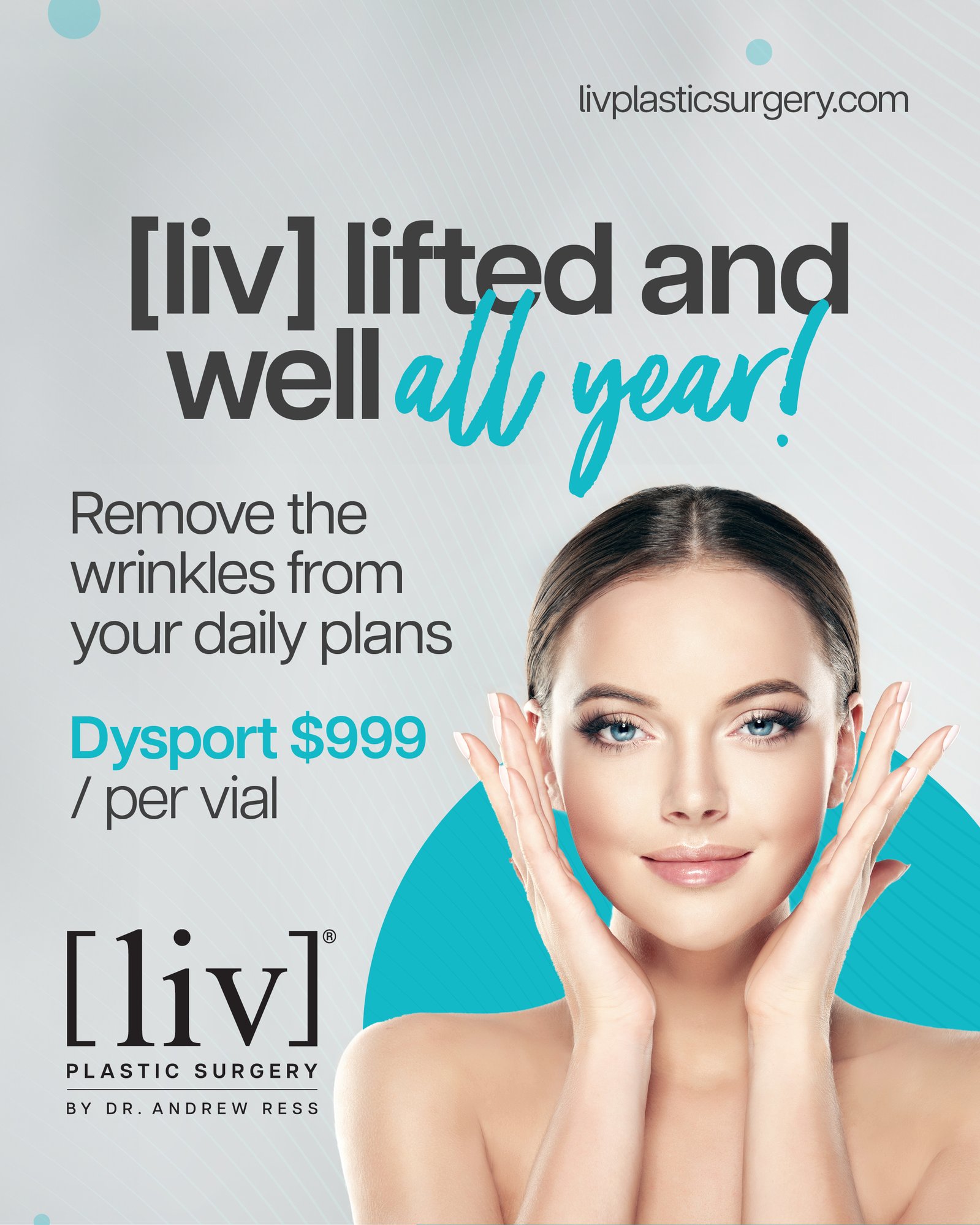 Pre-Pay & SAVE $500!
Promotional Offer Includes: 1 vial/ 300 units of Dysport®




(Vial must be used within one year of initial purchase)
Remove wrinkles from your daily plans and save $500 dollars by
pre-paying 1 vial/ 300 units of Dysport®.
Promotional Offer Includes: 1 vial/ 300 units of Dysport®
1 Vial of Dysport® $999 (Regular price $1499)

Provides a $500 savings

Vial can be utilized over the course of three - four office visits.

Receive ASPIRE points: Every 100 points = $10 of valuable savings on the treatments you know and love.
*Facial neurotoxin injections require continued maintenance, with repeated office visits scheduled every three to four months.
What is Dysport® by [liv]®?
Dysport® is a neuromodulator that selectively blocks and relaxes the muscles responsible for facial aging. It is used for cosmetic purposes to reduce the appearance of facial wrinkles. Untreated muscles remain untouched and function normally.

The Benefits of Dysport®:
Improvement of frown lines between the eyebrows
Improvement of forehead worry lines
Improvement of the upper and lower face
Reduction of crow's feet around the outside of the eyes
[liv]® Neurotoxin Results
Frequently Asked Questions
What are the brands of neuromodulators?
BOTOX (Allergan), Dysport (Galderma) and XEOMIN (Merz) all have the same active ingredient—botulinum toxin—but each brand has a slightly different formulation. Generally, most practitioners use all 3 to treat fine lines and wrinkles on the brow, forehead, crow's feet, bunny lines, frown lines, and nasal squint lines.
What is the difference between filler and neuromodulator?
What's the difference between a neuromodulator and a filler? In the simplest terms, fillers support and fill while neuromodulators weaken the contraction of muscles that lead to a wrinkle. More precisely, a neuromodulator interrupts the signal between the nerve and the muscle, causing it to relax.
Which is better for you a neuromodulator or a filler?
If you're considering a neuromodulator vs. fillers, always opt for neuromodulator to smooth fine lines of expression and prevent deep-set wrinkles from forming. On the other hand, if you want to add volume to the lines at rest (aka muscles that aren't contracting), fillers are the solution.
What happens if you stop getting Dysport®?
Luckily, getting Dysport® treatments for a long period of time will not have any negative effects, and if you discontinue getting Dysport® treatments, the worst that will happen is that your fine lines and wrinkles will return over time pre-pay and save now by taking advantage of this promotional offer.
Other Popular [liv]® Procedures
[liv]® Plastic Surgery

Enhancing Beauty and Changing Lives in South Florida
At [liv]® Plastic Surgery we offer facial surgery procedures for patients in Boca Raton and throughout South Florida.
Our expertly trained physicians and professional medical team are here to help you look younger, appear more rejuvenated and feel more confident.