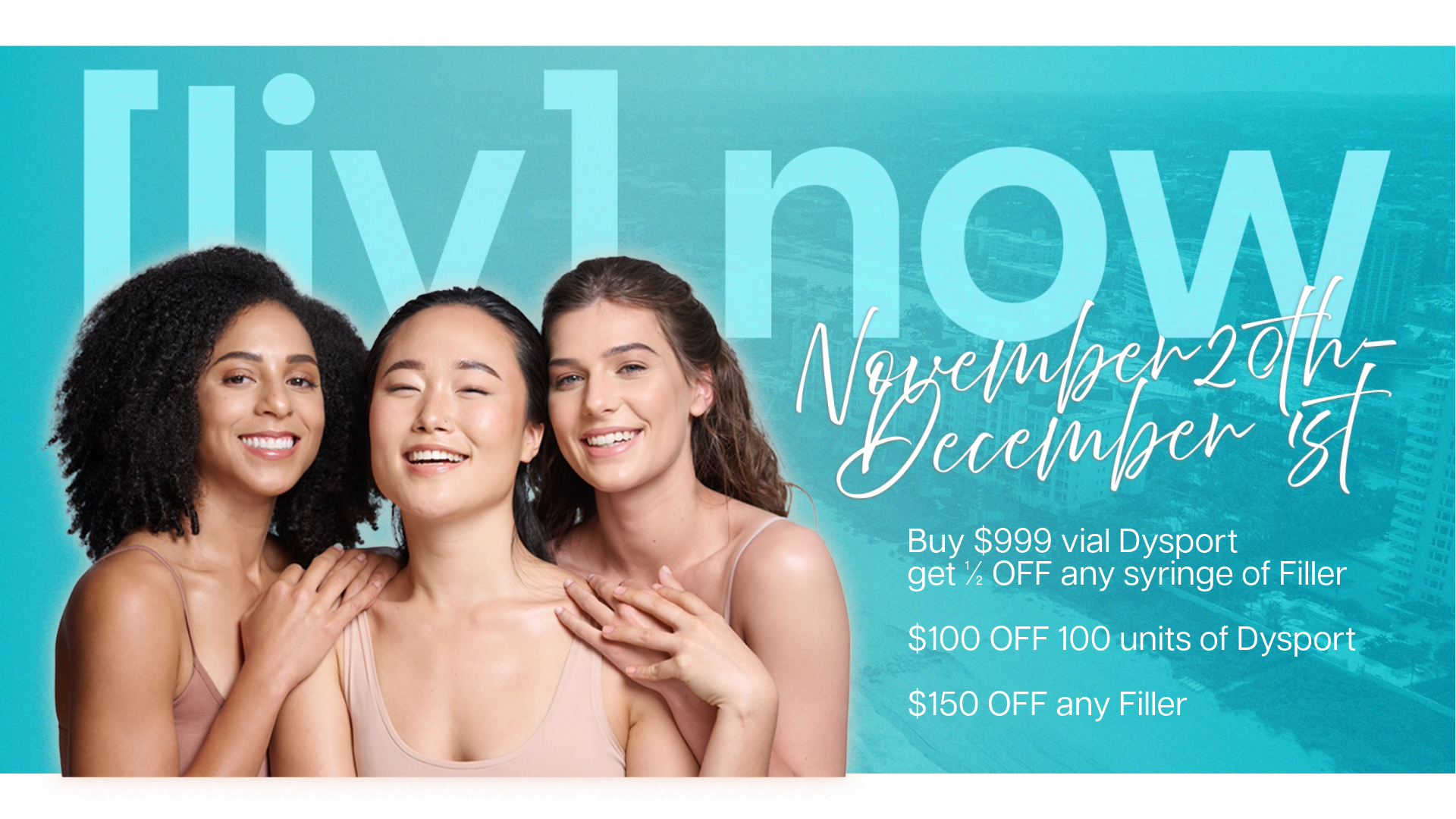 BLACK FRIDAY OFFERS
Remove wrinkles from your holiday plans Take advantage of our one of the 3 promotional Black Friday offers
Promotional Offers Available November 20th- December 1st
Promotional Offer 1:

Purchase $999 vial Dysport (Regular price $1499 -$500 savings) Receive ½ OFF any syringe of Filler

Promotional Offer 2: $100 OFF

100 units of Dysport

Promotional Offer 3:

$150 OFF

any filler
*Receive ASPIRE points: Every 100 points = $10 of valuable savings on the treatments you know and love.
What is Dysport® by [liv]®?
Dysport® is a neuromodulator that selectively blocks and relaxes the muscles responsible for facial aging. It is used for cosmetic purposes to reduce the appearance of facial wrinkles. Untreated muscles remain untouched and function normally.

The Benefits of Dysport®:
Improvement of frown lines between the eyebrows
Improvement of forehead worry lines
Improvement of the upper and lower face
Reduction of crow's feet around the outside of the eyes
[liv]® Neurotoxin Results
Frequently Asked Questions
What are the brands of neuromodulators?
BOTOX (Allergan), Dysport (Galderma) and XEOMIN (Merz) all have the same active ingredient—botulinum toxin—but each brand has a slightly different formulation. Generally, most practitioners use all 3 to treat fine lines and wrinkles on the brow, forehead, crow's feet, bunny lines, frown lines, and nasal squint lines.
What is the difference between filler and neuromodulator?
What's the difference between a neuromodulator and a filler? In the simplest terms, fillers support and fill while neuromodulators weaken the contraction of muscles that lead to a wrinkle. More precisely, a neuromodulator interrupts the signal between the nerve and the muscle, causing it to relax.
Which is better for you a neuromodulator or a filler?
If you're considering a neuromodulator vs. fillers, always opt for neuromodulator to smooth fine lines of expression and prevent deep-set wrinkles from forming. On the other hand, if you want to add volume to the lines at rest (aka muscles that aren't contracting), fillers are the solution.
What happens if you stop getting Dysport®?
Luckily, getting Dysport® treatments for a long period of time will not have any negative effects, and if you discontinue getting Dysport® treatments, the worst that will happen is that your fine lines and wrinkles will return over time pre-pay and save now by taking advantage of this promotional offer.
How long do fillers last in your face?
Fillers are not permanent. How long they last depends on things like the type of filler and where it's injected. They usually last between 6 and 18 months. Most dermal fillers used in the UK contain a natural substance called hyaluronic acid.
What happens when you stop using fillers?
The filler will slowly dissolve and leave you looking like your naturally beautiful self.
What type of facial fillers are best?
It helps keep skin plump and hydrated. HA fillers are typically soft and gel-like. The results are temporary, lasting 6 to 12 months or longer before the body gradually and naturally absorbs the particles.
At what age should you start fillers?
Many people find fillers helpful in their thirties or forties, but younger people may benefit from fillers when used to enhance the features of their youthful face. Fillers can produce excellent results at any age.
How long after fillers do you look normal?
The best results of dermal fillers are seen typically 1 to 2 weeks post treatment with some of the swelling and bruising dissipating by then. It could take up to 4 weeks for everything to completely settle down, at which point you will notice the results you're expecting.
Do you have to keep getting fillers once you start?
Many facial filler treatments require "touch ups" every 4-6 months for best results.
Other Popular [liv]® Procedures
[liv]® Plastic Surgery

Enhancing Beauty and Changing Lives in South Florida
At [liv]® Plastic Surgery we offer facial surgery procedures for patients in Boca Raton and throughout South Florida.
Our expertly trained physicians and professional medical team are here to help you look younger, appear more rejuvenated and feel more confident.