Restylane®
Restylane® is one of the most natural-looking dermal fillers on the market today. With its wide range of products, Restylane® can have you looking years younger without anyone knowing that you had something done.
If you live in and around Boca Raton, Delray Beach, Boynton Beach, Fort Lauderdale or anywhere throughout Palm Beach, Broward and Miami-Dade counties, come visit our conveniently located facility. Our professional medical team is here to help you look younger, appear rejuvenated and feel more confident.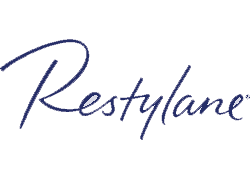 What are
Restylane® Injections?
Restylane® is a hyaluronic acid filler that is designed to act like the natural hyaluronic acid that already exists in the human body. Hyaluronic acid provides moisture and fullness to the skin. Restylane® is widely used to visibly reduce and smooth away wrinkles and fine lines, add volume to the cheeks and under the eyes, as well as redefine and add fullness to the lips.
How is It Performed?
Restylane® is a simple and safe procedure. The doctor begins by using both topical and injectable numbing agents to provide maximum comfort and minimize bruising. Then, Restylane® is injected into the desired areas of the face using a fine needle.
Benefits of Restylane®
Minimal downtime
Natural results are seen immediately
The average treatment results last between six and nine months, and in some cases, even longer
Dramatic improvement for a minimal treatment
Can provide volume in cheeks and crisp definition in the Cupid's bow of the lip
Types of Restylane®
Restylane® – Used to add volume and fullness to the skin, for moderate to severe facial wrinkles, and for folds such as the nasolabial folds and corners of the mouth.
Restylane Silk® – Specifically designed to redefine the shape and increase the volume of the lips and smooth away the wrinkles around the mouth.
Restylane Lyft® – Designed to add fullness, contour, and lift the cheeks and the midface area.
Juvederm® – A similar product line of the same base material by a different manufacturer.
What is the Cost of Restylane®?
The cost of your Restylane® treatments will depend on your needs, the number of areas that you would like to treat and your specific treatment plan. Your experienced medical team will review all the costs associated with your Restylane® treatments during your consultation. We offer financing in order to make your goals more affordable. We believe that everyone should be able to feel and look their best, and we want to help make that possible for you.
At liv Plastic Surgery, we look forward to helping you attain a naturally beautiful look. If you are located in Boca Raton or the surrounding areas in South Florida, including Delray Beach, Boynton Beach, Fort Lauderdale or anywhere throughout Palm Beach, Broward and Miami-Dade counties, contact us today. Our team is happy to offer you a customized plan that will inspire hope and help make you feel healthier and more self-assured.